Beaten and bitten, but not broken –
staying the course, championing the cause
Just a year into his role as a training officer at the Autism Youth Centre (now known as Eden Centre for Adults), Mr Sarayanan Mariappa sat at the doctor's, not for the first time that month. Pain radiated from the deep bite marks on his arm as he awaited his tetanus jab. 
What he felt more acutely, however, were the aching thoughts of dejection nagging at him. He had seen little progress with his client, John (not his real name), who had once again bitten and scratched him in a meltdown. 
"Should I stay here? I'm getting attacked. Can I sustain this in the long run?" Mr Sarayanan thought to himself. The job had been taking a huge toll on his mental health as he faced the day-to-day challenges of caring for persons on the autism spectrum. 
Yet, more than 22 years later, he remains in the industry, having learnt how to cope with such challenges with the support of colleagues. "You help one another, you lean on one another, and just move on," he said. 
Today, the sprightly 50-year-old is Head of Programmes at Eden Centre for Adults, as well as Head of Centre for the Clementi branch. The centre was created in 2010 as a day activity centre for adults on the autism spectrum, and has 88 beneficiaries across two locations. 
For Mr Sarayanan, it has been a long but meaningful process of learning to build relationships with his beneficiaries.
Rolling with the challenges
"You must have a mindset of taking things easy and accept the challenges as part of the job. Go in every day thinking 'Anything that will go wrong, will go wrong', and when everything goes smoothly, you are very happy!"
LEARNING COMMUNICATION CUES

His early experience with John was a make-or-break moment in his career. He recounts how he eagerly agreed to work with John, who was on the severe end of the spectrum – believing that he could get a breakthrough.
His optimism was perhaps naiveté, as he could not get through initially – suffering some physical attacks along the way. But he persevered, and slowly made headway. 
"I had to change my mindset and understand him better. I got more competent. He was communicating to me all the while but I just didn't understand it," he said. 
Through close observation, he managed to detect tell-tale signs of when John – who was non-verbal – would become angry and turn violent. John would make a "shhhhh" sound. 
"Every client communicates behaviour in a certain way and if you are alert, you will know how to work with them. You will know when to push (them to do activities) and when to pull back," he explained. 
"He is one client who taught me more about autism in one week than I could learn in years."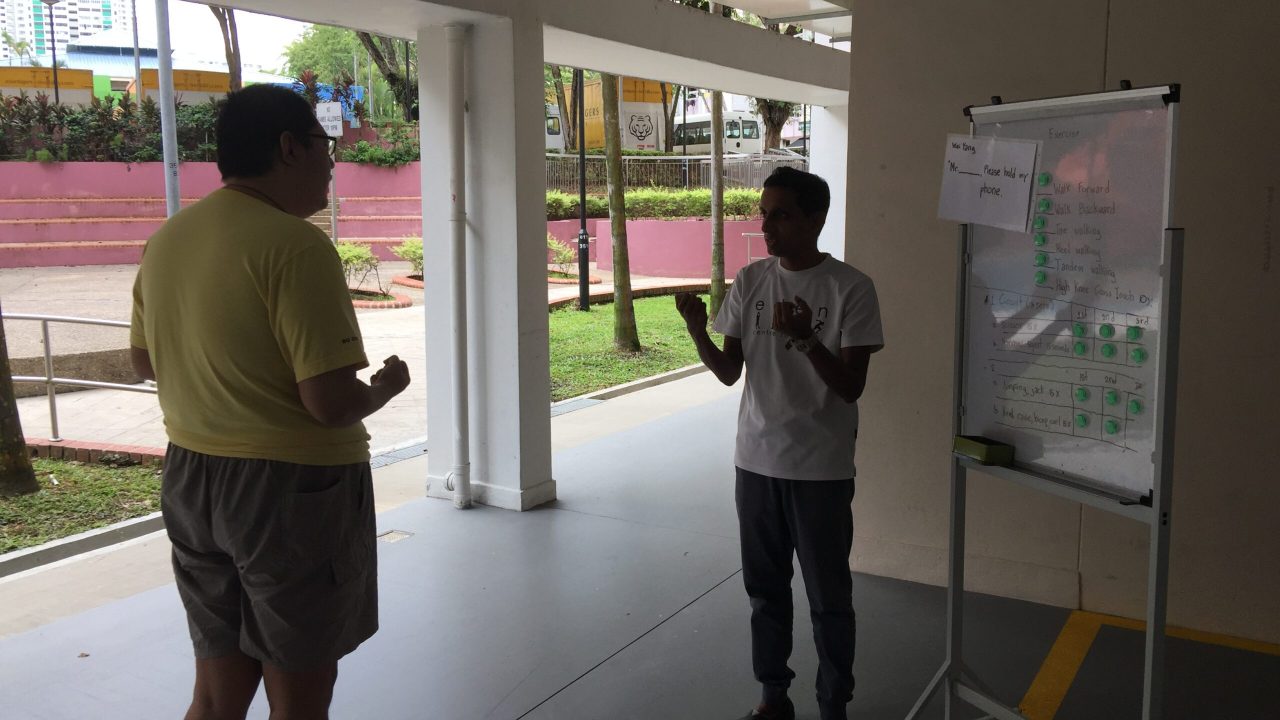 LEADING WITH JOY
Mr Sarayanan is now immersed in the world of persons on the autism spectrum. He enthusiastically joins in activities with them at his centre, even though he does not have to – his job entails planning, rather than participating, in the programmes.
"It gives me happiness to be with the clients," he said, sharing how he would join them for gym training and swimming, according to the pandemic guidelines of the day.
It is also his way of encouraging younger colleagues who face the same struggles he had in the early years, showing them that the job is both fulfilling and fun. "I have to create the culture and be the example," said Mr Sarayanan, who has 24 staff in two centres who are called coaches.
These coaches guide the beneficiaries through the day's activities, which are tailored to suit their individual needs. Under Mr Sarayanan's charge, the two adult centres aim to offer a more customised combination of programmes such as cooking, physical activities, and art and craft.
He is thrilled when parents share that their children are making progress by doing things they would not do at home, whether it is cooking a dish or striking an exercise pose.
"They will say 'Oh, he will never do this at home!'", he said, laughing. "That always makes us happy."
BE PRACTICAL, NOT EMOTIONAL

His job is also full of sobering moments, such as when parents of adult children come to him at a loss. 
He recalls how a single mother recently came to him sobbing as her adult son, in his early 30s, simply could not sit still on the van bringing him to the centre. This meant she had to take him there herself – an immensely distressing experience as she could not control him.
"She was really breaking down and at the point of depression," shared Mr Sarayanan, who added that his coaches are now helping her son adjust to social rules in the vehicle. 
While he used to be deeply affected by such scenarios previously, he has since steeled himself – a slow transformation that came with years of experience. 
"I used to feel very sad and disappointed if I couldn't find a solution and it affected me when I went home. But if we are going to be sad with the parents, it's not going to help. I have to think practically and find answers," he said.
Some answers remain elusive, but Mr Sarayanan presses on. "We are realising what needs to be done, and it's a work in progress. That motivates me to keep going," he said.