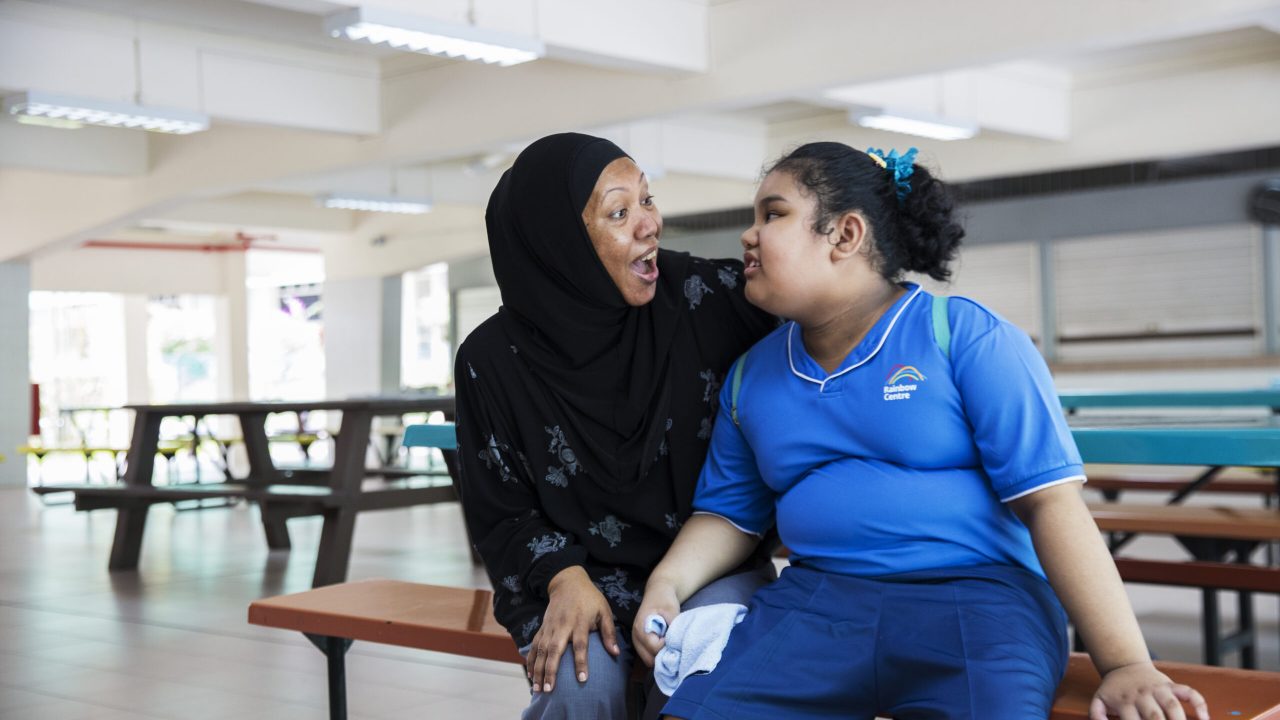 Raising Sofie: It takes a village, and some French fries
It was a social experiment that resulted in sweet success. For two weeks in 2018, Mrs Rasidah Namboka brought her 7-year-old granddaughter on the autism spectrum to the Swensen's outlet at Sun Plaza every day. The frequency then reduced to once a month.
These outings were not just a time of bonding for her and Tyra Sofieya, or Sofie to her loved ones. They were also part of her tireless efforts to get Sofie to feel comfortable going out and being in a social setting.
"I started with Swensen's and told them, 'Whatever Sofie breaks, I will pay. If she makes a mess, pass me the broom and I will clean up'," explained the 56-year-old.
"I said, 'If you just help me, I can promise you that I'll bring my whole family and you'll have an additional 12 people here every month'."
The restaurant was more than willing to help. They were given the same table 14, right at the back of the restaurant. And they always ordered the same food – French fries.
"Straight cut, crinkle cut, curly fries then steak cut. Always in that order. We would order one type first. If it was unavailable, we would go down the list," she shared, smiling at the memory.
Soon, the rest of the family joined the meal. Everyone enjoyed the dining out experience, especially little Sofie who eagerly looked forward to the treat.
Sofie did not say anything, as she is almost non-verbal, but her eyes spoke – sparkling like jewels, living up to her nickname, intan nani, which translates to grandma's jewel.
Drawing strength from support
"FOPtA was put together for parents and caregivers at school to have a list of people, places, and programmes to go to if they or their child need help with something. We wanted them to have safe, easy, no-questions-asked solutions. We wanted to extend our friendship and experience to other parents so that our journey together can be meaningful. We're all going in the same direction, except some of us might be travelling in different types of vessels – some faster, some slower."
WHEN THERE IS RESISTANCE 
Mrs Namboka, who had a brief stint working with children with special needs, first noticed signs that Sofie was different when she was only nine-months old. 
"At first, I thought she was hearing-impaired. When we called her name, she wouldn't reply. But when the doorbell rang, she was quick to react," she recalled. "So I thought she could be on the spectrum."
But she did not know how to break the news to her mother and daughter. When she did, they were not happy and resisted sending Sofie for a diagnosis.
When Sofie was five, she fell sick and was taken to the hospital. While everyone else was distracted by Sofie's cries, Mrs Namboka saw it as a blessing in disguise.
"I had a 20-minute window when I was alone with the doctor. I said, 'Please, I think my granddaughter might be on the spectrum. Can you give me a referral letter so she can be officially diagnosed?'"
Armed with the doctor's note and a newfound sense of purpose, she approached her daughter once more to enrol Sophie in a school for special needs children. "I wanted to get Sofie the help she needed as soon as possible," she said. 
Slowly, the rest of the family began to accept Sofie's condition. Today, Sofie's 76-year-old great-grandmother (Mrs Namboka's mother) focuses on her daily needs like showering and meals, while her grandmother helps with her learning. Sofie's mother takes care of her younger sister, who is also on the autism spectrum.
Mrs Namboka uses tools such as the Picture Exchange Communication System (PECS) to guide 11-year-old Sofie in communicating her needs and wants, as she does not speak. 
If people are unable to understand her, frustration sets in – but she does not kick up a fuss like most kids as she has extended legs – a condition that causes her to struggle with bending her legs fully. This makes her unable to jump up and down or roll on the floor to exhibit her unhappiness. "Instead, when she has a meltdown, she hits and bites herself," Mrs Namboka shared.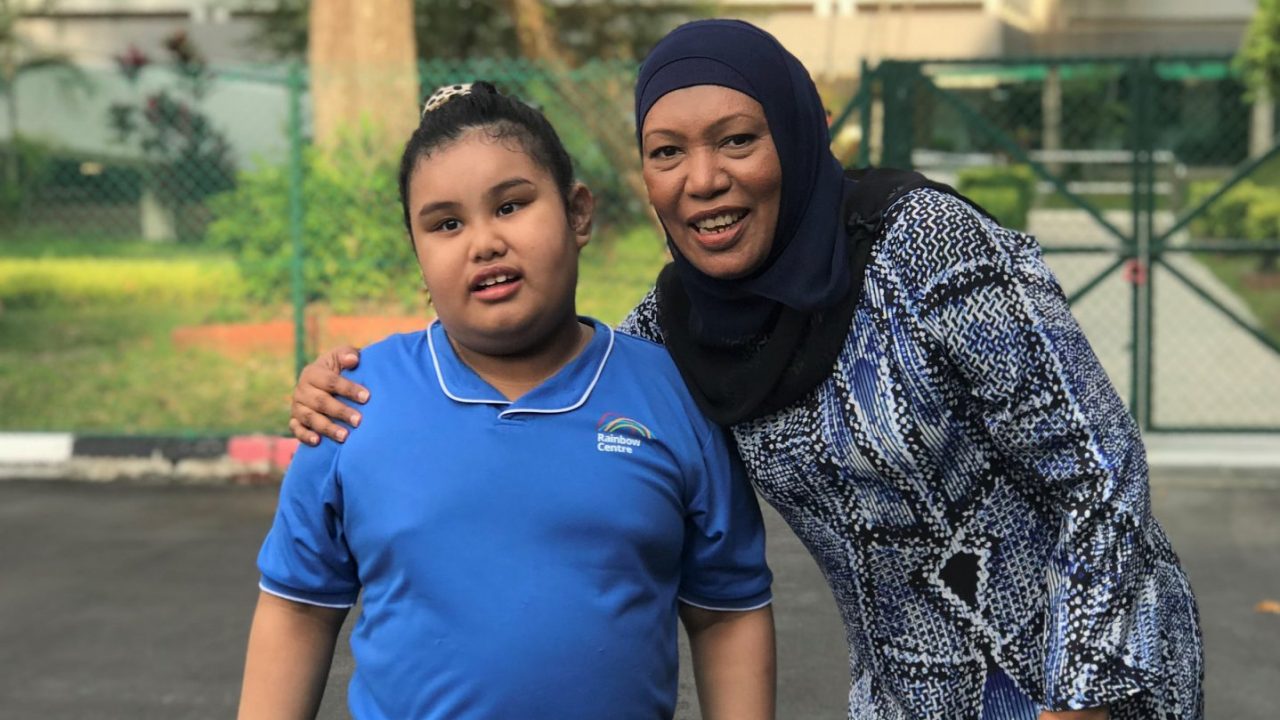 INCENTIVES AND SELF-DOUBTS 
The Swensen's experiment is not the only routine that Mrs Namboka has devised to help Sofie cope with everyday life. 
From walking to the nearby post office to enjoy the air-conditioning to visiting the Singapore Discovery Centre to see the lights, she always offers Sofie incentives to make their trips more manageable.
"Whenever we want to go out, I always check the route on Google Maps. Then I start to plan checkpoints. We will stop for bubbles, flowers, anything Sofie likes. This makes it easier for us to reach the end point," she said.
Similarly, when Sofie suddenly refused to attend classes two years after enrolling in Rainbow Centre Admiral Hill School, Mrs Namboka came up with another creative approach to get her back in school. 
"I told the principal at Rainbow Centre to give me three months and Sofie would be ready for school again. It's about doing things in stages and giving incentives," she explained.
So for two weeks in 2021, she had Sofie wave to her teacher from the taxi. The following week, she got her to exit the taxi and greet 10 people at the school. Day by day, Mrs Namboka would add an additional step to the routine. Within three months, Sofie entered the school and was able to participate in class activities again. Even though she did not stay till the end of the school day, she was grinning as she came down the stairs and headed for home. The day was a success.
But even the confident Mrs Namboka is haunted by self-doubts. There were countless nights when she would lay in bed awake, wondering if what she's doing for Sofie is right and whether she should leave the caregiving to the teachers instead.
"I spoke to myself, to the walls, to a scooter…I spoke to everything and anything that would listen to me and not answer. I needed to reconcile and tell myself not to be drawn to all these negative thoughts," she said.     
Over time, Mrs Namboka believes her granddaughter has taught her valuable life lessons. For instance, she now finds herself more empathetic and less judgemental.
"Sofie has helped me finetune things. For example, you can hear things, but are you listening? She taught me that," she said.