My children scream all day but I'm grateful for each day, says mother of twins on the spectrum
Hunkered down cross-legged on the floor, 20-year-old Cheryl Yeo is staging a silent sit-down protest by the platform doors of an MRT station. Despite the cajoles of her hapless domestic helper and chaperone May, she refuses to budge.
This is actually considered progress. "Now it's not too bad, at least she's in the train station," said her mother, Mrs Jacqueline Yeo, 45, while playing the video of the sit-down protest.
In the past, Cheryl would dash out of the station. That was when she first started taking the train after enrolling at the St Andrew's Autism Centre's Day Activity Centre at Sengkang in January 2021.
It has since stopped. After 16 months of experimentation to find the best way for Cheryl to commute, miniscule milestones have been achieved. Today, crying at the station is considered a marked improvement.
Yet, Mrs Yeo remains on heightened alert at 2.30pm almost every weekday when her daughter begins the two-hour commute home from Sengkang to Jurong West. For Cheryl, who is on the severe end of the autism spectrum, the journey spanning a staggering 26 stations can be a frightening expedition into the unknown.
"It's very stressful. I cannot have a restful mind," said Mrs Yeo. During this time, she is torn between work and her child. The database administrator's attention would flit between managing databases, replying emails on the computer, and checking in for updates from her helper May on her phone.
"Sometimes, she cannot cope with the noise and people walking around her," she added. That is when the screaming begins.
Practise daily gratitude
"We don't have to give up everything because our children are special. We do what we can. We must stay happy and be grateful for each day. There are so many things we can be grateful for – life still goes on."
STAYING COOL WHEN THINGS HEAT UP
Beyond these occasional moments of anxiety, Mrs Yeo is typically a cool-headed mum. She has to be. Cheryl is not the only child she and her husband Mr Victor Yeo, 49, need to watch out for. Twin daughter Eunice is also moderately autistic.
With both unable to speak, it can get chaotic – especially when both sisters act out in unison when they experience heightened anxiety. They resort to guttural groans, wild gestures, and sometimes screams.
But this bubbly working mother of three children remains sanguine. She has a younger daughter who is neurotypical. "I can even work when they're screaming," she shared with a laugh.
Becoming Zen, however, was not easy. Like steel forged in fire, the struggles that have pockmarked the past two decades have transformed her into a seasoned caregiver of today.
Now, anticipating her daughters' needs is almost second nature. To mitigate Cheryl's MRT meltdowns for instance, Mrs Yeo devised a meticulous plan to keep her constantly preoccupied during the ride.
There's a yellow handmade handbook for Cheryl to mark off every station that the train stops at, and headphones so she can listen to her favourite tunes from children's YouTube channel CoComelon. Lastly, there is a reward in the form of a snack once they've reached the train station near their home.
Their helper May also keeps a card emblazoned with a QR code that contains Mrs Yeo's contact details so that members of the public can reach out to her if necessary. "As parents of a child with special needs, we have to plan every single step to ensure a smooth transition," she said.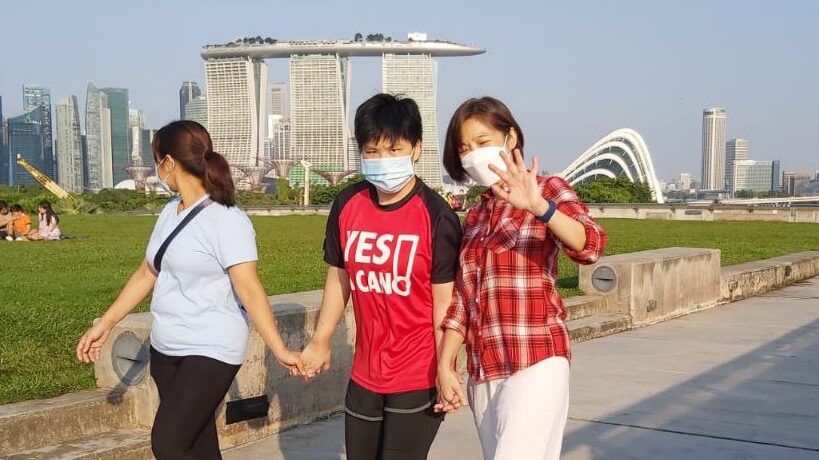 FROM DEVASTATED PARENT TO DETERMINED MOTHER
The steady Mrs Yeo of today is a far cry from the wide-eyed, young parent who first discovered the heartbreaking news that her twins had autism 17 years ago, when they were 2.5 years old.
"I didn't even know what autism was at that time," she recalled. "I was feeling very bad, had to cope with the embarrassment from my relatives and didn't dare to tell my friends."
This humiliation was coupled with exasperation, as the learning curve in nurturing them was steep and often unknown. "There's no manual to deal with them," she said. "I didn't know how to take care of them, so I would just scream and yell."
Thankfully, help arrived in the form of her mother-in-law, Madam Teo Peck Hong, 72, who stepped in as their main caregiver. Joining parent support groups when the girls were 15 also helped her open up and share her issues. "There are many people who have walked this journey and many who are walking alongside us. We learn together," she said.
And as her daughters grew, so did her own patience and resilience. "Previously, I was very short-tempered. I wanted things to be done in a certain way," she said. "Now I stand in my girls' shoes and think from the angle of how they process information. I'm much more patient."
PARENTAL GUIDANCE: A DATING EDITION
This proactive mother is already looking ahead to future milestones, as her twins become young adults. She is even taking dating management workshops to prepare for the eventual possibility that they find love one day.
"My husband and mother-in-law think I'm funny," she said. "But I see it as getting prepared so that we can handle it when it comes. I don't want to suppress their feelings. As an adult, these are part and parcel of their life."
While her life may be full of uncertainty, one thing is for sure: she is cherishing every moment of it. She has learnt to appreciate every progress, every step forward – no matter how small or how long it takes.
"My children scream all day, but I get used to it," she said with a smile. "Be grateful for each day."