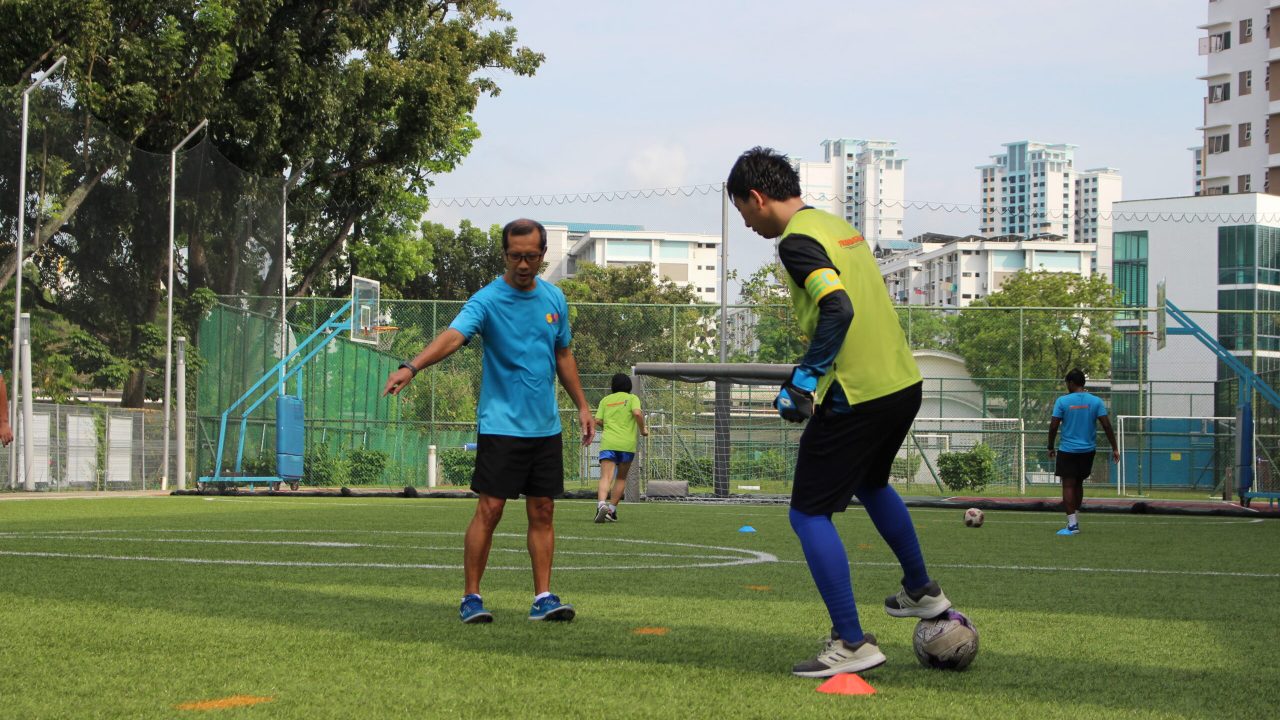 A journey worth continuing:
Finding joy in helping youths and adults on the autism spectrum
Almost every Saturday morning, there are giggles and guffaws coming from the field at Pathlight School where a game of football is played. Smiling gleefully as they run after the ball, participants are learning how to interact with each other in a social activity.
For some of these participants of the Autism Resource Centre's (ARC) Social and Leisure Club (SLC), it is the only time they get to play a team sport – and the only time they feel like they belong in a group.
"When the programme first started, one of the participants shared that this is the first time he's played soccer in a team. He was never chosen by his classmates in a mainstream school. This made him very happy," shared Mr Dennis Tan, 64, Programme Manager at ARC's Enrichment Programmes and SLC.
It was a poignant reminder that the things most people take for granted – such as social interactions and a sense of belonging – do not come easy for persons on the autism spectrum. This extends from childhood into adulthood, if they are not given sufficient opportunities to interact with others.
Mr Tan wanted to change that. Five years into his career at the ARC's Enrichment Unit, organising programmes like pottery and total fitness as part of after-school programmes, he was excited when tasked to start the SLC in 2010.
The SLC enables youths and adults on the autism spectrum to meet on a regular basis in a safe environment, offering opportunities to improve their social skills through sports and monthly outings. Open mainly to graduates of Pathlight School who may have difficulties finding friends, the SLC has a membership of more than 60 who attend the programme regularly.
"For many people on the autism spectrum, as they leave school, a significant number don't have as many opportunities to socialise because they don't have many friends," explained Mr Tan. "So SLC plays an integral role, as it gives them the opportunity to meet up with ex-classmates or make new friends, even if it happens only once a week."
Honest, unpretentious and spontaneous
"People on the spectrum are uniquely real…what you see is what you get. It is like looking at a crystal clear beach. Unfiltered…they are honest, unpretentious, and spontaneous."
OVERCOMING OBSTACLES
It was not a smooth journey at the start. He recalls fighting many internal "battles", such as gaining parental support especially when the activities involved bringing a large group of students to external camps.
Over the years, he has met parents who are hesitant to bring their children out, due to the fear that their children's actions might draw disapproving stares and hurtful words from the public. While he understands their concerns, he believes that people on the autism spectrum have a place in society too.
"Why should we hide them away at home? It is a chance for them to go out and enjoy the world like everyone else. And for the public, it is a chance for them to learn more about this community too. This is what inclusiveness is about," he said.
Dennis recalls one incident at McDonald's a few years ago. As his members were being too rowdy at the fast-food restaurant, a well-meaning patron suggested they get their food to go – to prevent disrupting others' meals. This was not a one-off case.
But he does not let these reactions get to him. "I have pretty thick skin. That's one thing you need to have to thrive in this line of work, and this is needed to close the inclusiveness gap with the public," he said.

The COVID-19 pandemic has caused some disruptions to the club's activities. "We had to cease all activities when the safety measures were implemented. We have recently re-started the activities on 12 February (2022)," he recalled.
But he knew the SLC was doing something good when it was missed. "A lot of parents and members kept texting us, asking us when we will open again," he revealed with a smile, adding that age is no barrier. The oldest member is 51.
A THICK-SKIN AND PATIENT HEART
Formerly an operations manager in the corporate sector, Mr Tan made a career switch in 2005. He joined the ARC, a non-profit organisation that supports persons on the autism spectrum through advocacy and has not looked back for a single moment.
"After being here for 17 years, I still wake up every morning feeling happy and excited to go to work," he said.
Today, he runs the ARC Enrichment team with a lean team of two staff and a group of volunteers who are mainly students from schools who have a partnership with ARC. As for the SLC, he works with a team of dedicated volunteers who serve with passion.
He continues to be on a lookout for more people to join the cause – those with a big heart, thick skin and lots of patience.
"The key to working with people on the autism spectrum is patience, as some have obsessions and repetitive behaviours that can go on for years. If you have no patience or you are easily upset with them, then you will find it hard to survive in this job," he shared candidly.
Gesturing at the field, he explained: "We have been running this football programme for years, yet the game remains challenging for them. But it certainly teaches them basic skills, gets them active and gives them joy."
It is this joy that keeps him going, to see more persons on the autism spectrum find happiness as well as help the public understand that these individuals are deserving of the same opportunities open to the rest of society.